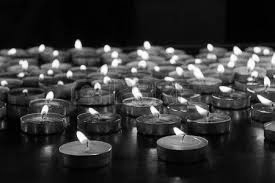 You are not alone."
Reverend Chuck Booker's words cut through the silence in the chapel, through the cold rain clattering on the chapel's windows, through the heaviness in my heart.
"You are not alone," he repeated, as his words echoed from the rafters.
I was seated in a pew, crumbled tissue in one fist, printed program in the other. The memorial service was for Bethesda Cares' clients, for the men and women who had suffered miserably on our streets, who had slept in our subway stops, behind our dumpsters and in our parking lots, for years. Some of them, for decades.
Right under our noses.
And who are now dead.
Some, we had successfully placed into housing; others had still been walking the long path out of homelessness. All, with so little sleep, such spotty diets, so much adrenaline used just to survive, had died much sooner than they should have.
So today, we gathered to remember. To remember the clients we'd known, with whom we'd worked, with whom we'd suffered, but also, with whom we'd laughed. Most of all, for whom we'd hoped. We wanted remember these souls, because we cared about them, and because we feared that no one else did. Neither family, nor colleagues, nor friends. We thought perhaps we alone would mourn their passing.
And we'd never held a memorial for clients before.
"The homeless."
Invisible.
Or too visible.
You know. The people whose raw need makes us uncomfortable, from whom we avert our eyes, whom we judge, whom we blame for their plights. The people whose lives are then splayed before their caseworkers, as they confront demons, trauma, betrayal; and try to pick themselves up, yet again.
So we gathered this morning, to look directly at their lives, not away. To look past what they had endured, to embrace who they had been.
And I was blessedly wrong, about to whom their lives mattered.
So many people cared.
So many came to remember. Long-time volunteers, and board members, who give their time to our clients, came to grieve. Caseworkers from other agencies. Local politicians, whose offices fight for affordable housing. Community members. People I know were today, homeless. People I know are recently housed. People I didn't know at all.
Row after row, we sat together, speaking, listening, praying in our own ways.
Seeking solace this morning, I looked around the chapel, at people black, white and brown. At people searching for their own answers, at people desperate for truths. And neither the differences, nor the similarities I saw amidst the mourners were predicated on who had a roof, and who didn't.
By the end of the service, I was not alone.