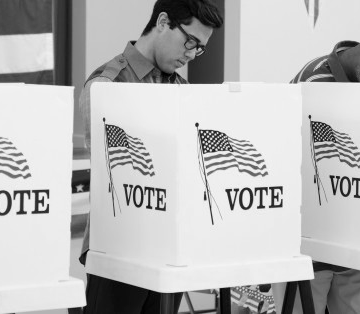 Tuesday was federal, state and local primary-election day in Montgomery County, Maryland. I was planning to hit the polls after work at the school near my home; what I wasn't expecting was overhearing a number of homeless people at Bethesda Cares' Drop-In Center who were planning to vote, too.
That left me wondering: How can you register to vote if you have no fixed address?
A quick Google search showed me that not only have other people thought this one through, but also that a lack of address is not particularly problematic. Colorado, for instance, considers any place to which you "regularly return" and have "the intent to remain" an adequate address for voter registration. In their own words:
[T]hose who cannot afford regular or adequate shelter may use a park, vacant lot, or homeless shelter as "home base" for registration purposes… Basically, if the elector intends the given location to be their home base, they may give any physical location as an address.
Similarly, if you sleep outside in Minnesota, you can register to vote by describing the address of your park bench, if that is where you sleep:
People who are homeless may register to vote by using the location of where they sleep as their address. This could be a shelter, a friend's place or outside. If it is outside, the voter should write a description of its location on line four of their voter registration application. For example, 'in the NW corner of Jefferson Park near the intersection of Winston Ave. and Smith St.'
Even if you follow Minnesota's instructions, though, you can't expect to sail through:
Voters who pre-register to vote using an address of an outdoor location will have their record 'challenged' because the county could not confirm a specific address. At the polling place, these voters may need to confirm where they live and swear that they are eligible to vote.
That potential indignity makes me shudder, though: "You sleep at a bus stop? Really? Do you swear you do, or are you just making that up to get in here and vote?"
I liked what I read about Tennessee's policies. They ask for a description of "where the person usually stays or returns to when absent. This location may be the address of a shelter where the person stays or frequents, or it may be the description of a street corner where the person may often rest." ("Rest." I like that Tennessee gets that people on the streets can rarely actually sleep.)
Moreover, Tennessee explains why a location description is important: "A physical description of the location must be given so that the election commission knows in which voting precinct to place the person. " Okay, that makes sense.
I was right about Maryland law: "You don't need a home to register, if you can show that you live and receive mail in the state." Hundreds of clients get their mail at Bethesda Cares, so I guess that answers that. I can't help but wonder, though, whether the main issues on which our clients hinge their votes are our lack affordable housing and our inadequate minimum wage.