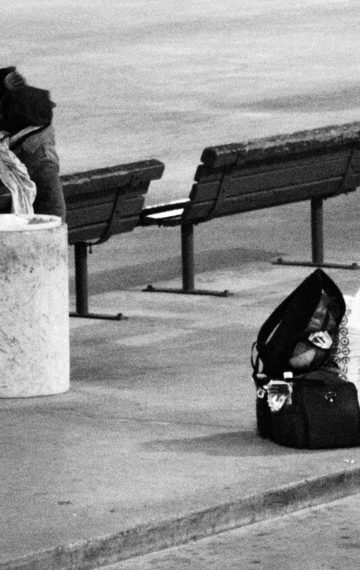 I walked slowly through dark, deserted city streets, peering constantly at my surroundings. Around 1 a.m., I spotted a man I recognized, sitting motionless on a bench at a bus depot, a small valise at his feet. Palms resting on his thighs, he seemed to be gazing into the distance, waiting for time to pass. He nodded off for a moment, then jerked his head back upright.
I knew, though, that the buses stopped running an hour earlier. And I knew that he knew that, too. You see, this man, elderly and nearly blind, is suffering homelessness. In the small hours of the night, he has nowhere else to go.
I wasn't just wandering around that night; I was looking for that man, and for all similarly situated, because if you really want to find the people living on your streets, you have to look at night. During the day, people seek respite from the weather, or access to bathrooms, in public libraries, on public transportation or in drop-in lobbies like the one where I work, at Bethesda Cares.
Late last month, as part of the annual federally-mandated Point-In-Time (PIT) count, I really wanted to find the people living on my streets. Happening nationwide, the PIT counts create a snapshot of homelessness, a sort of census. Following our canvassing, we'd combine our data with our partners', prioritizing housing our most medically vulnerable members, first. ('Most medically vulnerable,' translated: who's most likely to die, homeless.)
Thus, that evening, 28 of us gathered around 9 p.m., in a conference room littered with clean socks and unopened water bottles. Our Director of Outreach briefed us on what to look for—e.g. someone sitting at a bus stop, after bus routes end— and how to approach whomever we found. Deployed as teams on carefully designated routes, we were to identify and interview everyone we could.
Around 11 p.m., clipboards in hand, wearing bright colors and carrying the socks and water bottles, we hit the streets. For the first forty-five minutes, as restaurants shut and employees headed home, we didn't encounter anyone we thought might be suffering homelessness. Around midnight, though, silence fell over the city's streets, and that's when we started to find folks. We found them huddled in the backs of cars, or hidden under heavy army blankets, or sitting, just sitting, on benches.
At our drop-in lobby, I'm constantly around people enduring homelessness. I like to think I've remained sensitive to their pain and misery. But encountering a fellow human being sitting alone in a bus depot, just waiting for the darkness to pass, demands a whole other planet of empathy and awareness.
Watching that man was, for me, a sharp reminder of the horrible, horrifying and very public vulnerability endured by anyone with no place to lay his head for the night. Was he afraid to even try to find a place to try to fall asleep? Probably. I would be. I can't imagine letting my guard down enough to close my eyes for even a few minutes in public, much less muster the trust we need to feel—yes, trust—to deliberately relinquish our consciousnesses to sleep. Imagine trying to do so, while protecting every single possession you have, in a bag at your feet.
Frankly, I don't blame him for keeping himself awake. There are those who prey on vulnerable souls. I've heard stories of people being beaten, robbed or raped, simply for sleeping on a subway platform. Surely, he's lived those stories, too.
I'm glad I went on the PIT count, and I applaud the hundreds (thousands?) of others who did the same, that night. Identifying those living unsheltered is crucial: we can't house people we don't know. But counting, identifying and prioritizing isn't enough. We need places for them to live.
Sadly, in our area, need—raw, searing, human need- far exceeds the supply of affordable housing or programs for people suffering homelessness.  But this isn't a problem unique to Bethesda; the sky-high prices of even modest rental units hobbles service providers across Montgomery County, DC and Virginia, and nationwide.  We need more affordable housing.
We need more affordable housing.
We need more affordable housing.
Clearly, numerous challenges face our nation today, of grave and long-lasting consequences. But for the man on the bench, his needs telescope to just one: a bed, behind a door that locks. You can't hear his voice, though. So I write this today, for him.