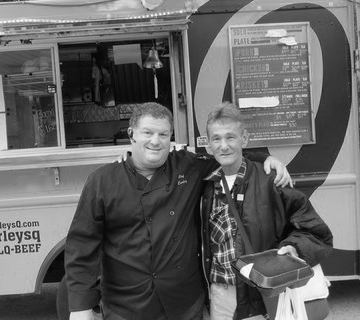 As I walked up to the food truck this past Monday, it was not quite lunchtime. But the food smelled fragrant, the neon lights on the truck were festive and the blasting tunes hit an early '70s tone to which I could relate. A few men stood near the truck, although none seemed in line for food.
Spying the man I had not yet met, I held out my hand David "Curley" Cornblatt, of Curley's Q, chef of the barbecue food truck and soon-to-be restaurateur. We exchanged pleasantries. Guiding me by the elbow toward the service window in the truck, he quizzed me on my food preferences, explaining the menu to me and ensuring I made the best choice for my meal. (I did: jerk chicken with extra sauce, 'slaw and a side of beans. And oh what a good choice it was.)
Curley played out this same vignette 30 or 40 times in the coming hour, but the rest of his clients were those of Bethesda Cares: people experiencing homelessness, or living on their very last nickels. He had brought his food truck to our lunch program, and was servin' up the BBQ, gratis.
Curley knew he knew he could simply drop off food for our clients, but that Monday, he chose a different route. He wanted to let them to revisit positive experiences that surely they have all had in their pasts: the pleasure of ordering fresh food from a menu, the anticipation of waiting while the food was prepared to one's liking, and the enjoyment of eating what you had selected.
He said he just wanted to see some folks smile.
And smile, they did. Initially faced with the brightly-colored truck outside our normal meal space, some clients were hesitant, assuming that this bounty could not be for them. Other clients walked up uncertainly, but broke into smiles we told them to just go to the truck and order what they wanted. A very few swaggered up as though a food truck fest was no big deal, like this happened to them every day.
I stood watching for more than an hour, as Curley welcomed each client as though they were regulars, discussing meat and sauce choices with an intensity that the White House kitchen staff would envy. I saw clients whom I know are living on our streets laugh, joke and indulge in great food together, as just for a few minutes, they found themselves touching the lives they had lost.